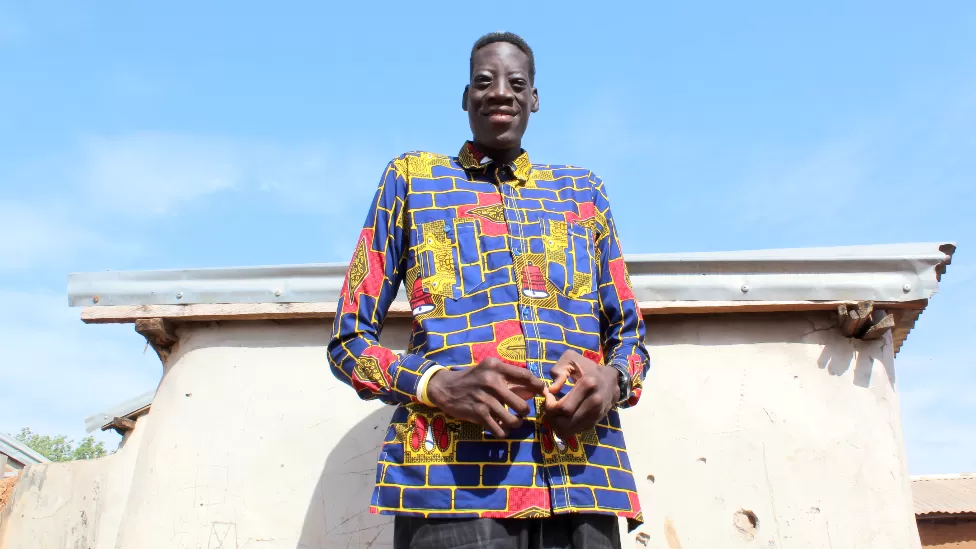 African news. Ghana's tallest Man could break world record. A man described as a 'giant' has been found in Northern Ghana and could have broken the record for World's tallest man, reported BBC.
A local hospital in Northern Ghana told 29-year-old Sulemana Abdul Samed during one of his recent check-ups that he had reached the height of 9 ft 6in (2.89m).
This would make Sulemana the tallest man in the world but there was a slight hiccup – his rural clinic could not quit confirm his height because it did have the correct measuring tools.
The said World tallest man was diagnosed with gigantism a few years ago when he was attending his monthly appointment to deal with the complications he was facing living as a giant when he was asked to stand straight against a measuring rod.
A nurse who was very shocked with the results told Sulemana that he had indeed become taller that the scale!
Better known to everyone by his nickname Awuche, which means "Let's Go" in Hausa, he was bemused by the spectacle he was causing. He was not surprised to hear of his added growth, he knew he had never stopped growing but the staff were more shocked than the man himself. They couldn't believe the heights to which he could assume. They were unprepared for such a spectacle!
BBC narrated that the the nurse on duty called her colleague, who in turn called out to another for help. They wanted to determine how long the Ghanaian giant had become and one nurse suggested finding a pole to use as an extension above their stick to measure his height hence arriving at the estimate.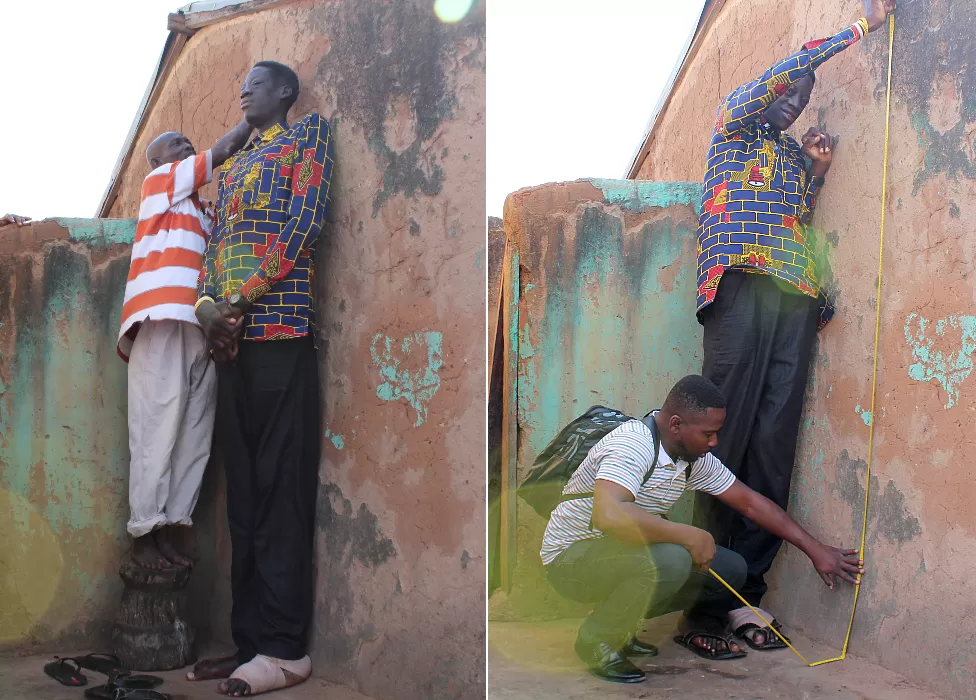 How did they measure Ghana's tallest man Awache?
They leaned him against a wall and marked the area above the top of his head and then determined his height using the measuring tape.
Mark you, Awache is taller than most houses in his neighbourhood but a suitable house was found where he could lean against and have his measurements taken.
He took off his shoes – large slip-ons specially made from car tyres and nailed together for him by a local handyman as he has been unable to find shoes to fit him.
Sadly, the measuring tape read 7ft 4in. which is a close measure to the tallest man alive is 8ft 2.8in tall 40-year-old Sultan Kösen, who lives in Turkey and holds the current Guinness World Record.
Sulemana Abdul Samed laughed off the measure saying he was still growing. He might just surpass the tallest man in the world.
"Every three months of four months I grow… If you've not seen me for three months or four and you see me, you'd realised I have increased," wrote BBC to quote the Giant.