African news. Kenyan Long-Distance Marathoner Eliud Kipchoge was honoured by Isuzu D-Max with a limited special edition "Eliud Kipchoge 1:59 Isuzu D-Max".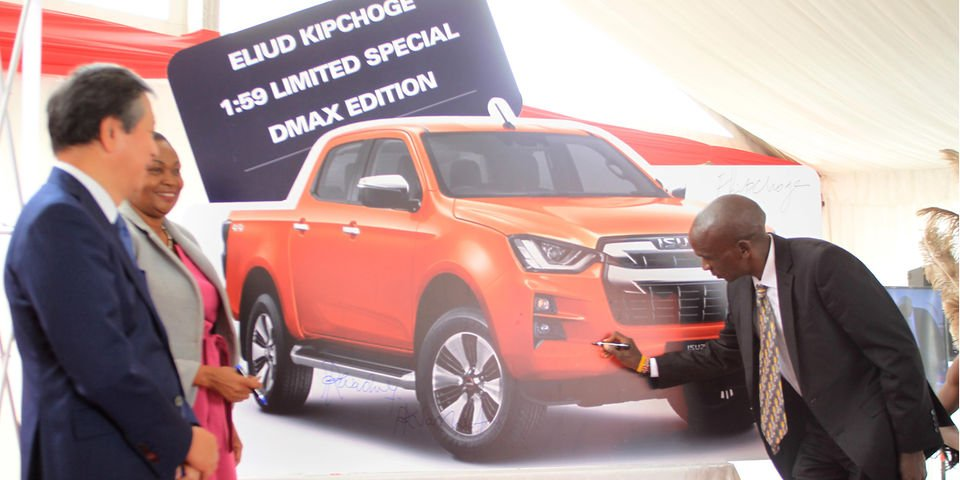 The double cabin pick-up will soon roll off the Japanese auto manufacturer's production line in honour of Kenya's two-time Olympic marathon champion.
Isuzu East Africa Managing Director Rita Kavashe disclosed that the the special limited edition of the vehicle that will have a symbolic 159 units produced to celebrate the star's achievements in the five-year partnership between him and the company.
According to Nation, Kavashe said Kipchoge will have the honour of driving out the first of the special edition vehicle bearing the plate number 001.
Kipchoge broke his own world record in Berlin with two hours, one minute and nine seconds. We wrote about it here: Kenyan long-distance Marathon runner Eliud Kipchoge breaks world record in Berlin, Germany.
However, the "Eliud Kipchoge 1:59 Isuzu D-Max" comes from the INEOS 1:59 Challenge in Austria on October 12, 2019, where Kipchoge made history as the first man in history to run a marathon in under two hours, covering the bespoke Vienna course in 1:59:41.
"We shall have 159 vehicles so those interested should order," said Kavashe as she led Isuzu East Africa staff in hosting Kipchoge at their premises in Nairobi.