Major fire in Stuttgart: Six people were injured, at least 20 buses were destroyed in a hellfire explosion in Stuttgart.
A 60-meter-high column of smoke rose into the air, a police helicopter patrolled over the east of the city, explosions were heard: there was a major fire in Stuttgart (Baden-Württemberg) around 20:00 last night.
Six intoxicated people
More than 210 firefighters were mobilised. The fire broke out in the bus garage of Stuttgarter Straßenbahnen AG (SSB) on Thursday evening.
At 22:00, the fire was under control, according to Stuttgart police.
Six employees of the company were affected, two of them arrived at the hospital for care, with suspicion of smoke poisoning.
20 buses were completely burned down , completely destroyed.
The explosions which were heard all over the city, come from the explosions of tires, according to SWR. The fire is likely to affect public transport in Stuttgart.
Unclear cause
It remains to be determined whether a technical defect led to the fire. According to the police, there are no indications of a deliberate act.
Numerous hybrid buses were housed in the bus depot, including an electric bus but speculation about the cause of the fire has grown on social media.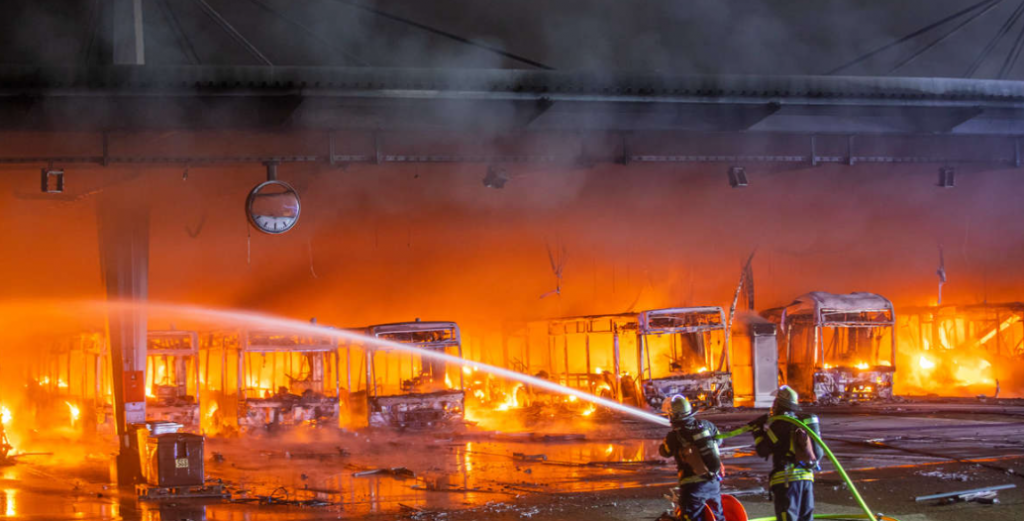 According to initial estimates, the damage amounts to about 10 million euros. The lobby of the bus depot is in danger of collapsing.
READ MORE: Tornado in Kiel: People picked up by the wind and thrown into the sea, 7 people injured
The major fire also kept residents of the Gaisburg district industrial site tense. They were asked to keep windows and doors closed, to turn off air conditioning and ventilation systems and to avoid the affected area.
The warning was lifted early Friday morning, according to merkur.de
Source: Merkur.de