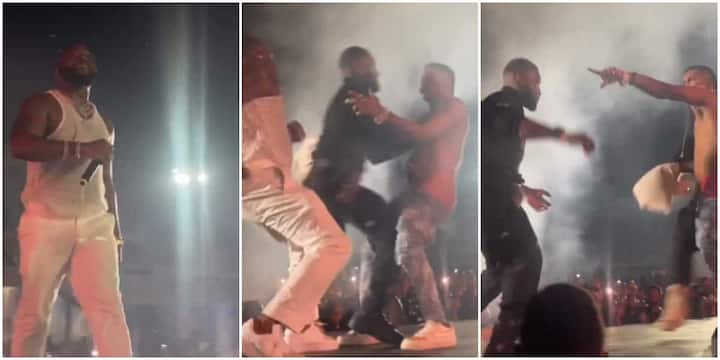 African entertainment news. Afrobeats Artiste Davido found himself in a scary situation when he had to nearly punch a fan on stage during his 'Timeless' concert.
The artiste is well known for always having comical moments on stage during his performances and this was the case when he went to perform in Botswana.
During Davido's performance, a fan rushed to the stage and charged at the 'assurance' hit-maker who was also prepared to defend himself but security officers hastily managed to remove the man while the star carried on with his performance.
The overzealous fan jumped on stage and charged at the singer before quick-thinking security personnel intervened. Davido readied himself and was already in a position to throw punches at the fan before security personnel made off with the culprit.
Davido then took a long walk from the scene before he returned and continued with his performance.
READ MORE: Nigerian artiste Davido's son dies aged 3 – the cause of death is tragic
What did fans have to say about Davido being attacked on stage?
"That's not a fan, that guy is angry with Davido, he obviously came to fight him."
"I don't like that show organizers don't include stage bouncer most of the time, suppose there was stage bouncer mount with just 3 feet away from each other, they could have caught the guy even before climbing the stage, the werey won hit my idolo"
"He was not fighting He wanted to hug OBO aggressively"
"na left or right hand david wan use throw the punch coz as em change mic to right hand confuse me"