Marcus Rashford is an English professional footballer who plays as a forward for Manchester United and the England National Team.
Rashford was born on the 31st of October in 1997, he is 23, and has been playing for Manchester from the age of seven.
Family
Marcus Rashford was born in Manchester and raised in the Wythenshawe area of the city. He is of Kittittian descent. His grandmother was born in the west indies island of Saint Kitts.
His father is Robert Rashford while his mother is Melanie Rashford.
Rashford comes from a working class family; his mother is Melanie Maynard, a single parent who often had to work multiple jobs to feed their family, sometimes skipping meals herself to ensure Rashford and his siblings ate.
Rashford's father on noticing his son's interest in football encouraged him to join a local club, Fletcher Moss Rangers, where his father was also a coach.
At Fletcher Moss Rangers, Rashford who was just 4 years old stood out. His skills were so impressive that scouts from Manchester United academy signed him to their youth system.
Siblings
He has four older siblings; two brothers, Dwaine Maynard and Dane Rashford, both of whom went on to represent him professionally, and two sisters, Chantelle and Claire.
FUN FACT: He is a cousin of fellow footballer Lois Maynard, who currently plays as a midfielder for Stockport County.
Career
He started his youth career at a very tender age of 5 playing for the Fletcher Moss Rangers club in the year 2003. Later, he moved to Manchester United in the year 2005.
Rashford scored on his England debut in May 2016, becoming the youngest English player to score in his first senior international match.
At the age of 18, he became the youngest English footballer to represent the team in any European championships beating the record which was previously held by Wayne Rooney.
Rashford has so far won the FA Cup, EFL Cup, FA Community Shield and Europa League.
He played at the UEFA Euro 2016 as the tournament's youngest player, and also represented England at both the 2018 FIFA World Cup and the UEFA Euro 2020.
Relationship
Marcus Rashford is currently dating Courtney Morrison who is his girlfriend.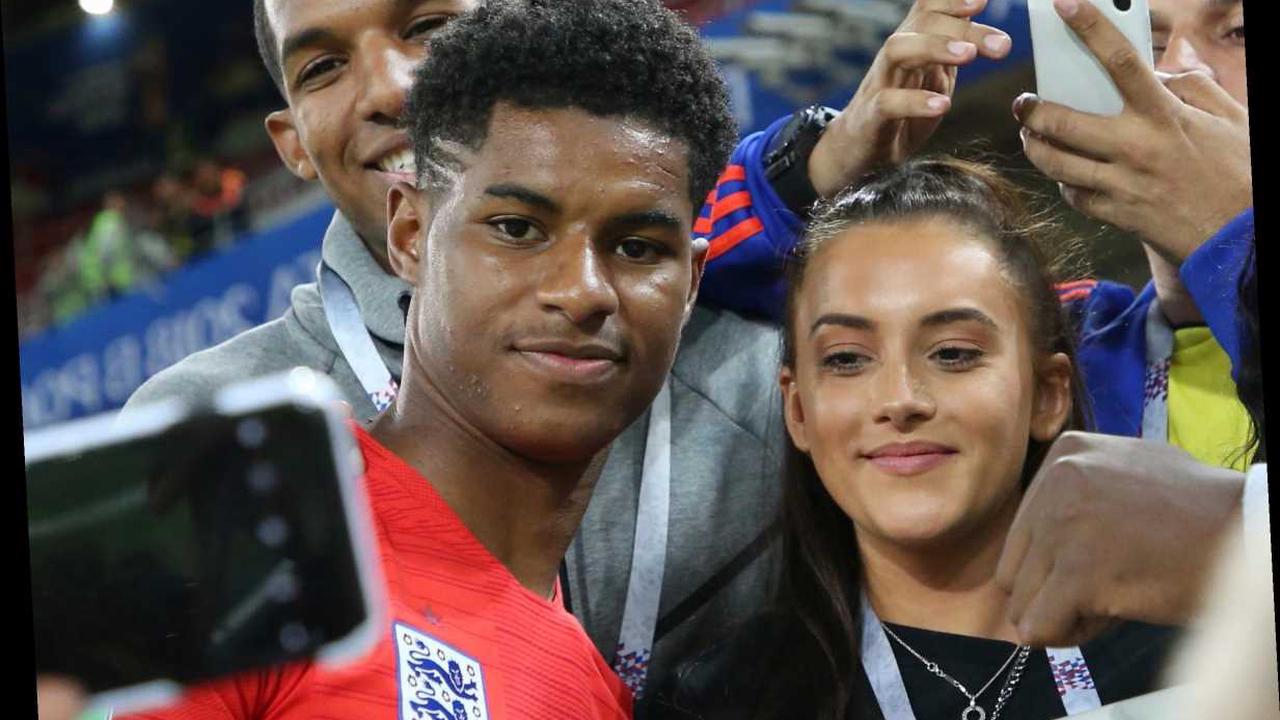 Philanthropic work
He is a campaigner against homelessness and child hunger in the United Kingdom. Rashford has been praised for using his platform to be a political activist and philanthropist to drive societal change.
In October 2019, Rashford set up the In the Box campaign with Selfridges to give homeless people essential items over the Christmas period, something he had wanted to do when first training with United as a youth.
He and his mother visited homeless shelters to personally hand the boxes out, while also sending some to a children's home in his grandmother's home country of Saint Kitts and Nevis.
For his efforts, he has received widespread praise and acclaim, and has been recognised for his efforts from institutions and organisations both in and out of sport.
Net worth
81 Million dollars. In 2019 alone, he received a total of £10.4 million in salary. Rashford has endorsement and sponsorship deals with McDonald's and Nike.
Random Facts
Height – 5ft 11 in. (1.80m)
Nickname – Wonder Kid, Rash
Position – Forward
Foot – Right
Jersey no. – 10
Nationality – English, British
Weight – 70 kg
Zodiac – Scorpio