The African Diaspora Development Institute (ADDI) will host a webinar bringing together the organisation's Founder Ambassador Arikana Chihombori-Quao and African Diaspora Media and Content Creators.
Ambassador Chihombori-Quao, MD., is a former Africa Union Ambassador to the United States of America.
The event scheduled for 12th December 2020 is titled "A Candid Conversation: You are our CNN."
It will underline the importance of changing the current narrative on Africa and Africans.
Apart from Ambassador Chihombori-Quao, the webinar will be addressed by Davies Chirwa, ADDI Director of Media North America, Dame Dentaa Amoateng, ADDI Director of Media UK/Europe, Dr Susan Tatah, The Pan African Diaspora TV and Jomo Akono ADDI Media/Radio Personality, Amirah Ansaar, ADDI COO/Director of Global Outreach.
The webinar will be moderated by Tone-X, Author, Comedian and Radio Personality.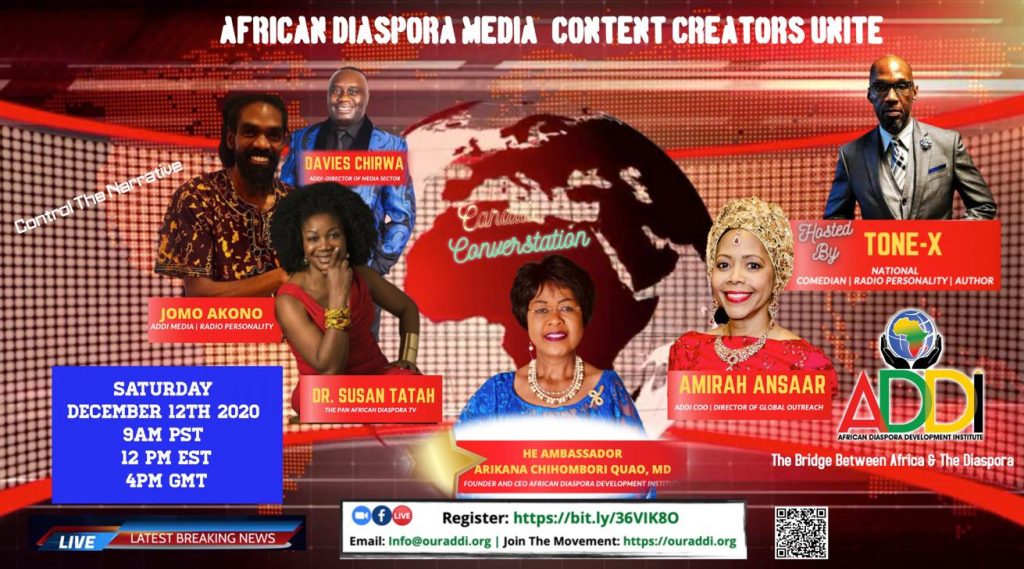 "China has CGTN, America has CNN, United Kingdom has BBC, Arabs have Aljazeera, Germans have DW. All these media outlets report Africa from their own perspectives. Africa needs media outlets that report the world and Africa from an African perspective. The time is now," said Dr Tatah.
Click here to register to attend the webinar: https://bit.ly/36VIK8O
The African Diaspora Development Institute was born out of the desire to bring Africa to the world and the world to Africa. Currently there is no one resource to easily find information about Africa. Business Communities around the world, African Diaspora, or people interested in African tourism have to visit 55 African countries in order to find out information about Africa. ADDI aims to become a one-stop organization where people can go to get information about Africa.
The organisational membership is made up of all people of African descent living outside Africa and friends of Africa. The whole idea is to organise the diaspora professionals and friends of Africa into continental, regional and strategic teams according to sector.
For more information check out the website here: https://ouraddi.org/