African Festivals in Germany 2022: Afrika Festival Tübingen 2022. After two years of absence due to the pandemic, Afrika Festival Tübingen, the biggest African cultural and business event in Germany is back and we have details on how it's going to go down from the program to the performing artistes:
This is the 15th edition of the International Afrika Expo Festival in Tubingen, Germany. The four day festival will be taking place from the 4th to 7th of August 2022 at Festplatz Europa street 80, University Town Tübingen, near Stuttgart- Southern Region of Germany.

The festival promises those attending loads of attractions, creativity, fun and incredible opportunities with more than 100 artistes going live on stage to showcase their amazing talents.
The Expo shall be a showcase and presentation of Africa by its diaspora: Its' know-how, skills, innovation and talent in every sector.
This stretches from the A – Z of agriculture, African science and technology, cosmetics, catering, digital work forces, education, energy, fashion and beauty, food and beverages, financial services, jewelries, leather, healthcare, hotels, leisure and so much more.
One of the African brands made by Africans, services innovations, talents, activism and voices, will receive a Dr Susan Tatah Award for excellence.
READ ALSO: Meet Susan Tatah, the lady behind one of the biggest African Festivals in Germany
There will be a wide variety of African artistes gracing the stage with performances from; X-Maleya (Cameroonian music group composed of Roger Saming, Auguste Rim and Haissam Zaiter), Zimbabwean born poet Obert Dube, Elhadji Mohamed Koumama from Niger and Zimbabwe born public speaker, author, philosopher, leader, musician and social entrepreneur, Joshua Maponga.
The event will also have Tanzanian band based in Germany, Ngoma Afrika band, headed by Ebrahim Makunja also known as Kamanda Ras Makunja, gracing the stage and bringing an amazing musical feel to the event. We have more details here: Ngoma Afrika band to perform at Afrika Festival Tübingen 2022
Registration is open to all Africans doing all kinds of work in Europe and beyond. Apart from traders and exhibitors in the African Market place, all other registrations and participation is free of charge, tables are available at 100€ for 4 days, all you need is to send an email: info@africafestival-international.org
Also Whatsapp: +49 1578 211 2379 for more details on the event.
Afrika Festival Tübingen: PROGRAM
Welcome Reception
One Africa Parade & Unity Declaration Speeches
Kings & Queens Gala, Awards
Business and Social Forums
Pan-African Daily TV African Voices Worldwide Open Microphone Speaker corners with Empowerment Talks – Motivational and Inspirational Public Speakers
Open-Air Festival with Live Bands, DJs, MCs, Comedy shows and much more.
UPDATES TO THE FESTIVAL:
Delegates from the different regions in Germany met on the 6th of June in Stuttgart for an official launch of the 15th edition of the festival. (pictured below)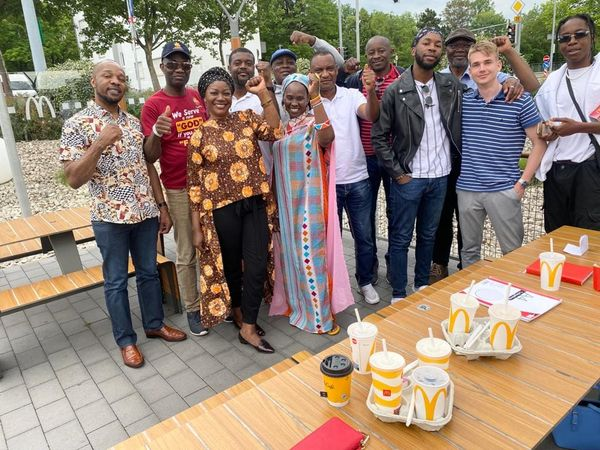 Several African brands confirmed their attendance such as; Holmes Brothers SA, Diana Magesa, Cosmetic OTJ Naturals, Ismail Elhadji Mohammed – Tuareg Silver jewelries and more to to be announced!
What the organiser of the festival, Susan Tatah, had to say about the Afrika Festival Tübingen:
"The fear of people meeting is very present because of COVID-19 which has changed the way people interact. However the Afrika Festival Tübingen aims to help people overcome such fear by bringing the spirit of Africa and togetherness.
"The festival is a family festival and this is also very evident in the cost of the ticket which goes for 5 euros only! This is meant to encourage all to come and enjoy this event meant to empower all Africans young, old, women, men and children, across the board from Germany to the African continent!"
READ MORE ABOUT IT HERE: African Community in Germany Awards (2022) official nominees to be announced on 27th June
The Afrika Festival Tübingen was last year nominated for the Best African Festival in Germany Award at the African Community in Germany Awards 2021. The African Community in Germany Awards celebrate and recognise the outstanding achievements of Africans in different fields in Germany. Nominations are now closed for 2022 but the voting lines are soon to be opened!
By Rading' Nyamwaya & Beheram Karim