African Footballers: Pierre-Emerick Aubameyang is a Gabonese professional who plays as a striker for Spanish La Liga club Barcelona. He is renowned for being one of the best and fastest ball dribblers. Here's what we know about him in his player profile:
Here are a few answers to questions about Pierre-Emerick Aubameyang like: What country is the African star from? how old is he? how much does he weigh? What is his net worth? what is his salary, who are his parents? and what is his religion?
Who is Pierre-Emerick Aubameyang? Personal life?
Full name: Pierre-Emerick Emiliano François Aubameyang
Date of Birth: Born 18th June 1989 (32 years)
Place of birth: Laval, France
Height: 1.87 m (6 ft 2 in)
Weight:  179 pounds/ 81 kgs
Occupation: Footballer
Position: Striker, attack centre-forward
Current team: FC Barcelona
Number: 25
Foot: right
Goals: 72/30
Outfitter: Nike
Zodiac: Gemini
Aubameyang was born in Laval, France. He is the son of former Gabonese international footballer Pierre Aubameyang and younger half-brother of Catilina and Willy, who have both played for Milan's youth teams.
His mother is Spanish.
Pierre-Emerick Aubameyang's career in the field of football
Pierre-Emerick began his senior club career playing for Italian club AC Milan, but never appeared for the club as he went on a series of loan spells in France.
He moved to Saint-Étienne in 2011. There, he won a Coupe de la Ligue title and joined Borussia Dortmund in 2013.
In Germany, Aubameyang finished as the league's top goalscorer in the 2016–17 season and won a DFB-Pokal. He also ranks as the club's seventh highest all-time goalscorer.
In 2018, Aubameyang was the subject of a then-club record association football transfer when signed for Arsenal in a transfer worth £56 million (€60 million), making him the most expensive Gabonese player of all time.
With Arsenal, he won an FA Cup and finished as the league's joint-top goalscorer in the 2018–19 season.
In 2022, Aubameyang joined Barcelona after his Arsenal contract was cancelled by mutual consent. Aubameyang is Gabon's all-time top goalscorer.
He made his senior debut for Gabon in 2009 aged 19, and appeared in four Africa Cup of Nations tournaments and the 2012 Summer Olympics.
In 2016, Aubameyang was named African Footballer of the Year; the first Gabonese and second European-born player to win the award.
Aubameyang's Net-Worth
His estimated total net worth is in the region of 55 million euros
Is Pierre-Emerick dating or in a relationship?
He is married to Alysha Behague, the couple have two sons, Curtys and Pierre.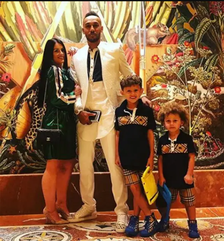 Random facts about Pierre-Emerick
The star's social media page is Pierre-Emerick Aubameyang and he has 12.6M followers.
He is a flexible player who can play as a winger or a striker, although he prefers to play as a striker and central forward.
Pierre-Emerick Aubameyang is the brother of Catilina Aubameyang (Retired), brother to William-Fils Aubameyang (Retired) and son of Pierre Aubameyang.
He is multilingual and speaks French, English, Spanish, Italian, and German.