At the late Tanzanian president Magufuli's public body viewing 5 people died during a stampede. This also includes 4 children. Regional leaders also joined Tanzanians present to pay their last respects to the controversial leader.
The late president is well known for being an ardent coronavirus sceptic and had even on some occasion said that he was not going to wear a mask and that if her were to die it would be his fate to die.
Tanzania's newly sworn in president Suluhu Hassan reported that the late president had died from heart failure on Wednesday while masses questioned the credibility of the news assuming he had died from the coronavirus.
Tens of thousands of Tanzanians came out to view Magufuli's body at Uhuru Stadium in the country's largest city, Dar es Salaam, over the weekend.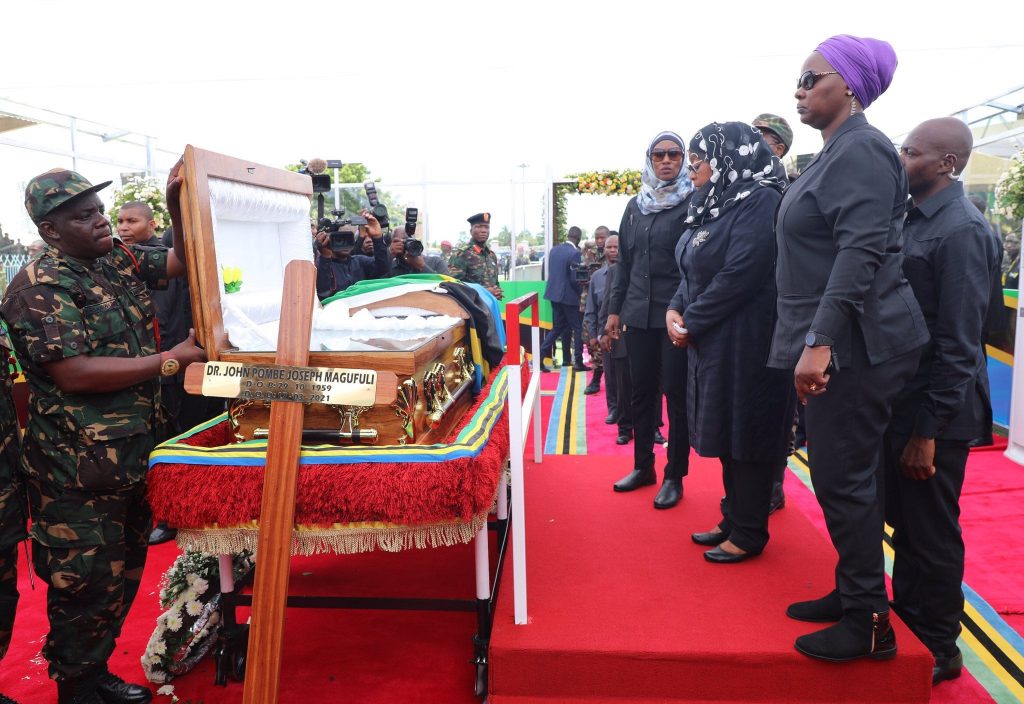 Spectrum News 1 reported that 'Suzan Mtua, a 30 year-old woman had died with four school-age children from the same family when there was a stampede of people wanting to view the body Sunday'.
Among the 5 who die at the Magufuli public viewing were children aged between 7 and 12 years who had demanded that they also attend the event and this was the last conversation they are said to have had. A family member confirmed the happenings.
READ MORE: Shock and disbelief: Africans in Germany react to the death of Tanzania's President John Magufuli
Hundreds of peoples who attended the funeral fainted in the crush and authorities said they will issue a statement on Tuesday about the number of people killed in the national event.
President Suluhu was joined by nine African heads of state on Monday for Magufuli's state funeral.
Kenya's President Uhuru Kenyatta, Cyril Ramaphosa of South Africa, Felix Tshisekedi of Congo and Filipe Nyusi of Mozambique, Lazarus Chakwera of Malawi, Azali Assoumani of Comoros, Emmerson Mnangagwa of Zimbabwe, Edgar Lungu of Zambia and Mogkweetsi Masisi of Botswana.
The late president is to be buried on Friday.
Source: Tanzania's Government website,