Rebellion The Recaller was the winner of The Best African Musician/Band In Germany. at the AFRONEWS – Ortel Mobile African Community in Germany Awards (2021).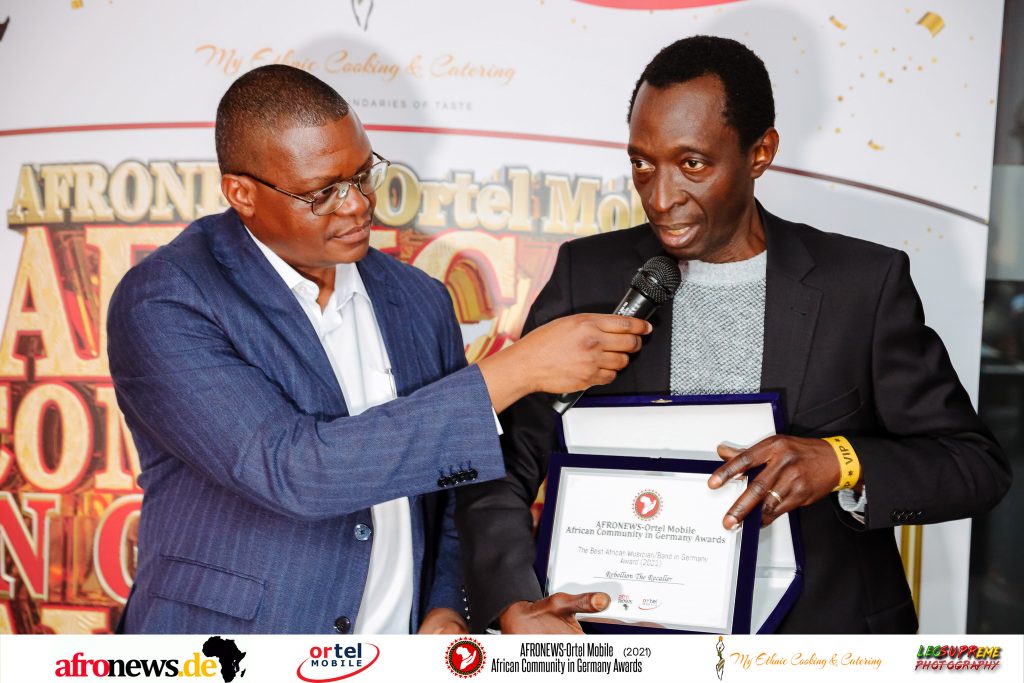 Sponsored by Ortel Mobile, Germany's leading prepaid sim cards provider for people with a migration background, the AFRONEWS – Ortel Mobile African Community in Germany Awards celebrate and recognise the outstanding achievements of Africans in different fields in Germany.
DETAILS OF THE WINNER
Rebellion the Recaller is an internationally known artist from The Gambia.
He mainly uses his music to campaign against racism and religious discrimination and to promote better understanding between people from all backgrounds. He wants a better future for all that dwell on Earth. This has earned him the label of "The INSPIRED ONE".
In 1990 he released his first hit WE MUST REBEL as a collaboration with Suns Of Light" (THE BOYZ US RNB Sensation in the 90).
The single was in the Top 10 charts in The Gambia and Senegal for months thereby making it the best ever selling single record by a Gambian Artist.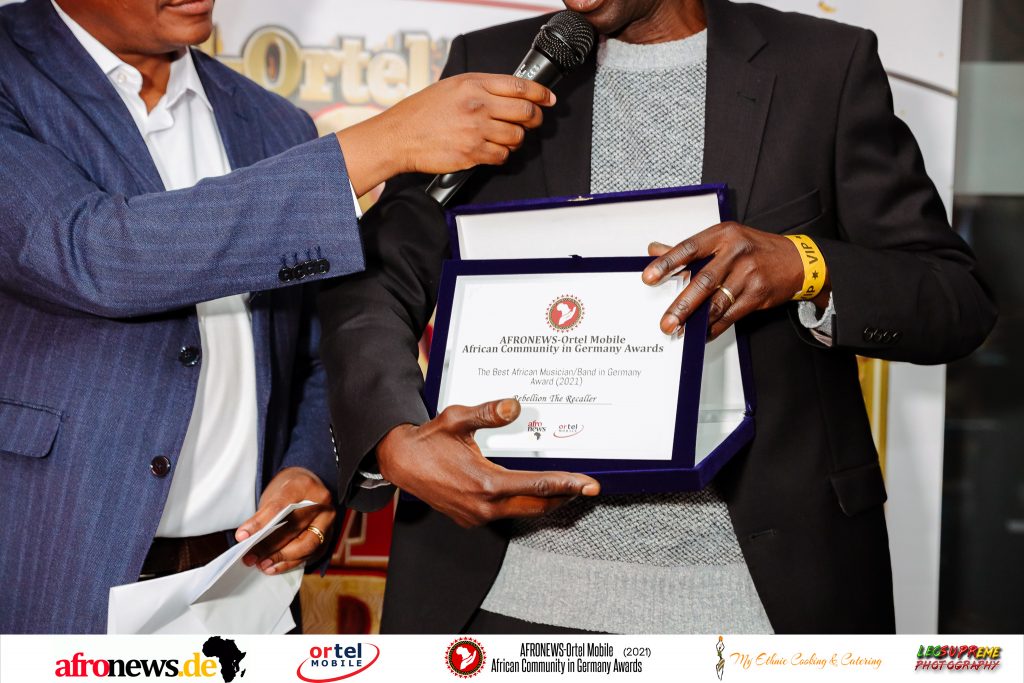 Rebellion the Recaller was born in France to Gambian parents. He moved to live in The Gambia when he was 11 years old and while there, he joined the band The Inspired Ones before starting his solo career.
He released the "One For One" in 1997 which became an instant hit in The Gambia.
Rebellion the Recaller released his debut album titled "Departing From These Days" in 1999. In the same year he was named The Best Solo Artist in The Gambia.
After moving to Germany in 2003 Rebellion the Recaller released a single titled "We must Rebel"
In 2008 he released an album co-produced by Bobby Digital. Rebellion the Recaller also appeared as a guest singer on records by D-Flame, Dodo, Phenomden, Mono & Nikitaman and Gentleman.
He now lives in Berlin.
https://second.wiki/wiki/rebellion_the_recaller
Winners of the AFRONEWS – Ortel Mobile African Community in Germany Awards (2021) were announced at the Awards Gala Night sponsored by Ortel Mobile on 23rd October 2021 from 18:00 to 23:00 at Freigut Bootshaus GmbH, Freigut-Frankfurt, Eiserner Steg (Sachsenhäuser Mainufer), 60594 Frankfurt am Main.
CLICK HERE TO VOTE FOR THE BEST AFRICAN MUSICIAN/BAND IN GERMANY AWARD 2021