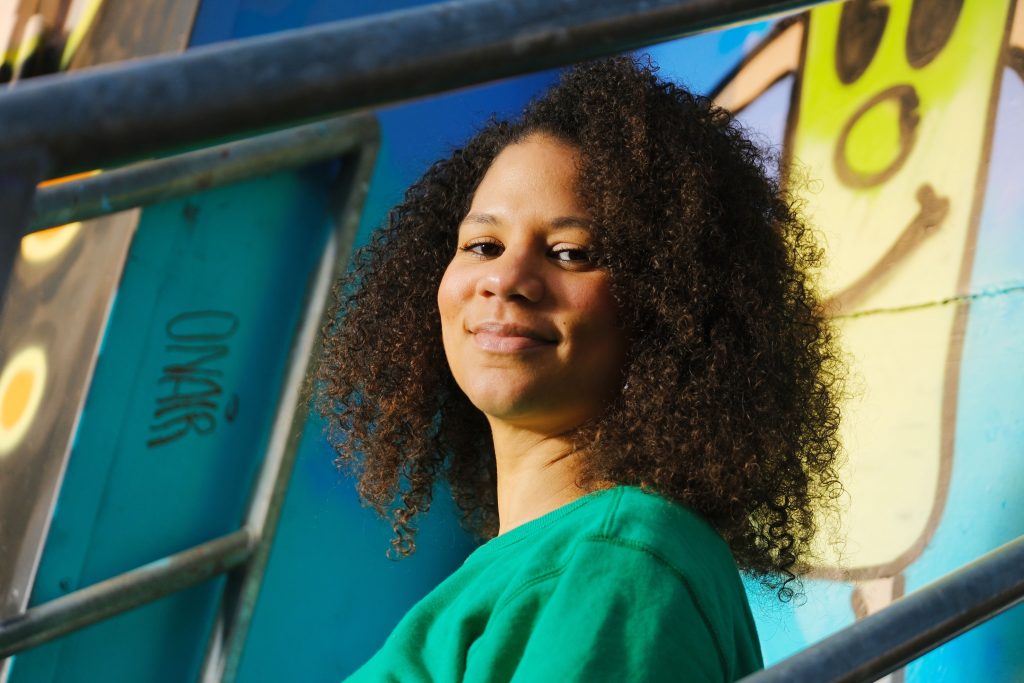 African community awards. AFRONEWS AWARDS 2023. Joanna Peprah has been nominated for Best African Activist in Germany 2023 at AFRONEWS Awards 2023.
Who is Joanna Peprah?
Her Ghanaian name is Mamea Dapaah. Her father immigrated from Berekum in Ghana, to West Germany in the 1980's. Joanna was born in Cologne and has been advocating for the rights of Black people in Germany since her childhood.
Joanna Peprah identifies with the wisdom of Kwame Nkrumah. 'I am not African because I was born in Africa, but because Africans were born in me."
Joanna is an activist, therapist, and moderator. She moderates, organises, and coordinates events, and she is regularly invited as an expert on topics such as racism in general and racism against Black people, empowerment, and identity.
Since 2012, Joanna has been a member of the Black People Initiative in Germany (Initiative Schwarzer Menschen in Deutschland). This association has been advocating for the rights of Black people in Germany for 37 years.
Currently, she organises and leads the activities of the initiatives local group which organises numerous projects such as Black History Month (Month of Black and Afro-diasporic History).
She connects psychotherapists who are proficient in African languages and/or are critical of racism. She is also a part of the expert panel Postkoloniales Erbe Kölns (Postcolonial Heritage of Cologne). This panel advises the city of Cologne on issues such as the return of
African looted art, racism in the healthcare system, improvement of the education system for diasporic people, and much more.
She has repeatedly advocated on television and radio for equal treatment and the opportunity for African refugees from war torn Ukraine to complete their studies in Germany.
Furthermore, she is a co-founder of the initiative 'Stop the N-Word,' which campaigned for Cologne to recognise and condemn the N-word as racist. In May 2020 Cologne became the first city in Germany to do so. Since then, she advises cities throughout Germany on this
issue and assists in implementing the condemnation.
By now, 19 cities in Germany have recognized the N-word as a racist insult. Moreover, Joanna Peprah has organised numerous peaceful demonstrations and rallies on the topics of Black Lives Matter and racism throughout Germany.
In 2023, she was awarded the Cologne Volunteer Prize for Democracy and Diversity.
CONTACT DETAILS OF THE NOMINEE
Email: Joanna.peprah@isdonline.de
Instagram: joanna.pep
Website: joannapeprah.de
What are the AFRONEWS AWARDS?
The AFRONEWS AWARDS celebrate and recognise the outstanding achievements of Africans in different fields in Germany. They are a way of appreciating and encouraging Africans who have excelled in different fields and are making a positive contribution to the German society.
The Awards also recognise the good work done by African organisations/associations and businesses to promote a positive image of Africa and Africans, facilitate integration of Africans in Germany, promote business opportunities and international cooperation between Germany and African countries, and above all, make Germany and the world a better place for all of us.
How to vote for your nominee
Public voting online for the official Award nominees is officially open on the 7th August 2023 here: AFRONEWS Awards Germany (2023) – VOTING IS NOW OPEN!!
How to sponsor the AFRONEWS Awards 2023 Gala Night
The Afronews Awards 2023 Gala Night is a high-level event that offers companies a variety of channels to increase their visibility amongst members of the African Community in Germany. To sponsor the event, please contact;
Stephen Ogongo,
Editor of Afronews Germany,
Tel/WhatsApp: +393333010654.
Email: editor@afronews.de
Or
Chris Black,
GMB Promotions
Email: gmbpromotions@musician.org
Tel/WhatsApp: +49 163 1254715
Sponsors of AFRONEWS Awards 2023
Ortel Mobile, Germany's leading prepaid sim cards provider for people with a migration background, is the major sponsor of the AFRONEWS AWARDS 2023.
The Awards are also sponsored by Taptap Send, an easy-to-use smartphone app that lets you send money to family and friends with just a few taps and a debit card.
The African Community in Germany Awards Gala Night 2023
The event will be held in Waiblingen, Stuttgart on 21st October 2023. The venue chosen for the Afronews Awards Gala Night 2023 is: Bürgerzentrum Waiblingen, Bürgerzentrum, An d. Talaue 4, 71334 Waiblingen, Stuttgart. The date is: 21st October 2023, from 17:30. Save the date!!
Booking to attend the AFRONEWS Awards Gala Night 2023
You are all encouraged to attend the Afronews Awards Gala Night to join us in celebrating achievers from our community.
Reservations are made on a first-come first-served basis. For further info on Reservations to attend the Awards Gala Night, please contact:
GMB Promotions
Email : gmbpromotions@musician.org
Tel/WhatsApp: +49 163 1254715