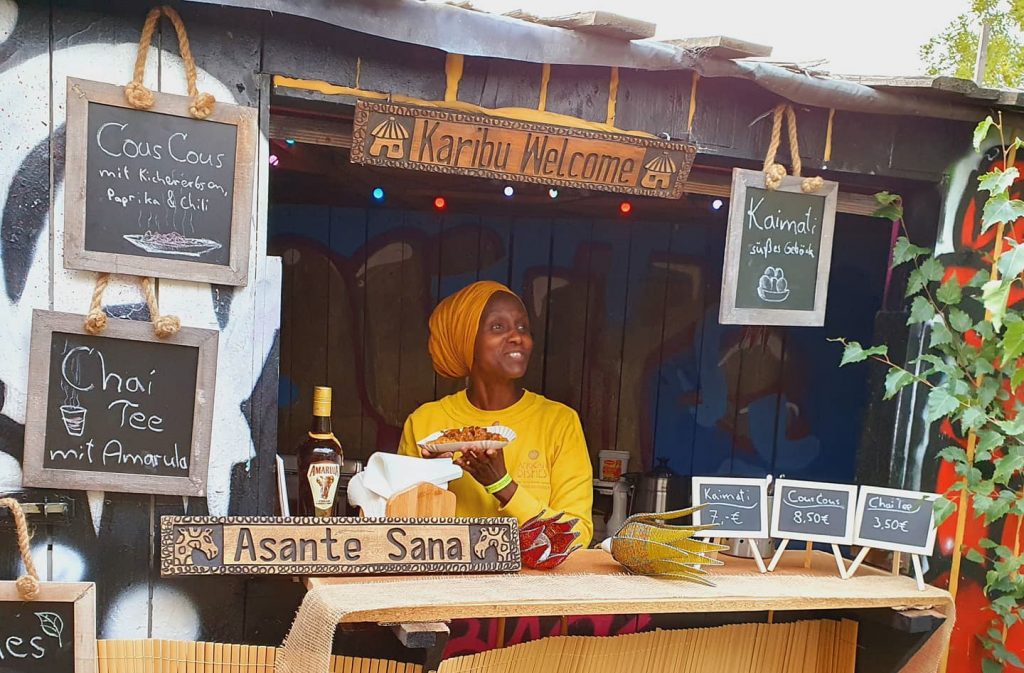 African Community Awards: African Community in Germany Awards 2022 Helen Nintemann has been nominated for the Best African Gastronomy – Restaurant, Caterer Award at the AFRONEWS – Ortel Mobile African Community in Germany Awards 2022.
Who is Helen Nintemann?
Helen Nintemann was born in Kenya but moved to Germany permanently in 1999 after meeting her husband.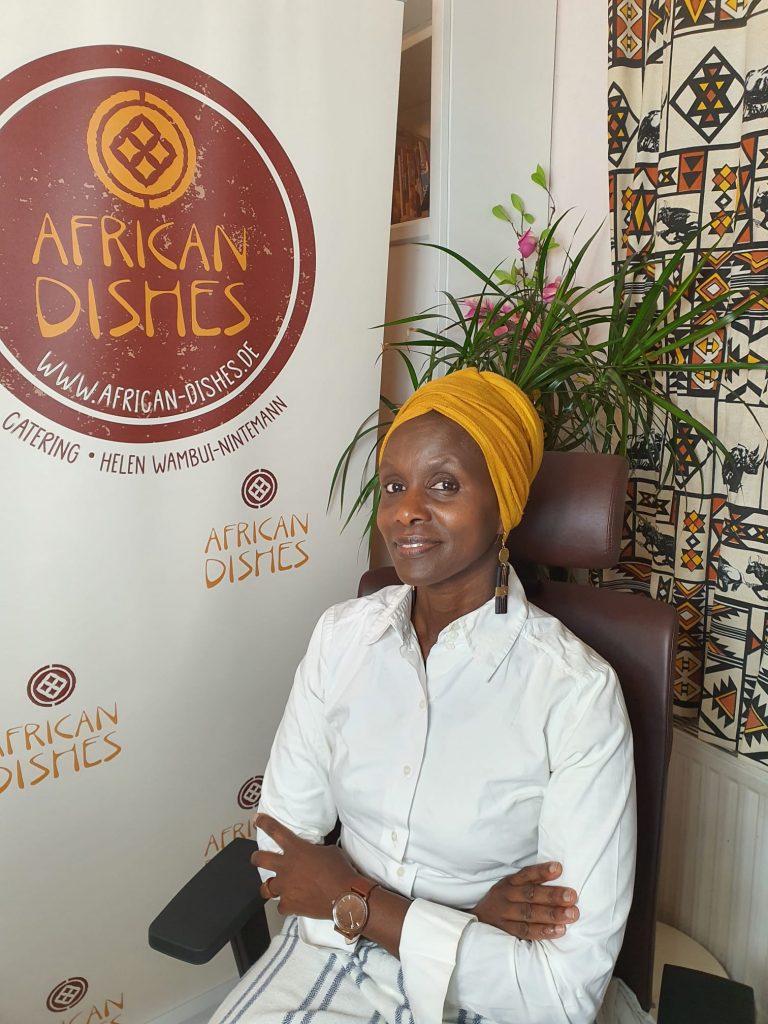 She founded her own company called African Dishes in Osnabrück in 2012. They offer African dishes from Rwanda, Uganda, Congo, Burundi, Tanzania and Kenya.
African Dishes aims to promote German-African understanding through sharing a common African meal.
Everything prepared at African Dishes is authentic and only fresh, healthy ingredients end up on the plate or the traditional bowl made of pumpkin.
On her website, Helen explains the idea behind the food served at African Dishes: "My aim and concept is to offer dishes made from untreated ingredients and organic products that are as natural as possible because the more natural, the tastier – and healthier! Over time, I have built up a whole network of responsible and environmentally conscious suppliers from the area – from the showcase slaughterhouse to the organic vegetable gardener. And in the summer season there are fresh African vegetables from our own garden! All of this corresponds to the quality standards that I set for myself, my employees and African Dishes.
She adds: "African Dishes' unique menu is designed to reflect cultures, traditions, celebrations and lifestyles of the vital character of African cuisine. The food of the African continent is diverse and varies by region. The scents, flavors and the extravagant and elaborate way of preparing the food are exciting and unique. Fine ingredients, different cooking methods and a truly African buffet decoration (and African music if requested) ensure that my customers can experience the delights of African cuisine."
Over the years, she has improved her services. She now offers catering with delivery and live cooking in the food truck.
The African Dishes team can also be found at various events in different German cities.
Apart from running the African Dishes, Hellen Nintemann is also very vocal when it comes to issues affecting migrants. She is a member of the Migration Advisory Board of the City of Osnabrück.
She also ran a cooking group at a school in Melle-Buer for several years and, in cooperation with this school, initiated a virtual student exchange.
CONTACT DETAILS OF THE NOMINEE:
African Dishes
Bohmter Strasse 40
D-49074 Osnabrück
Phone +49 (0) 5 41/9 71 26-0
Email: Helen@African-Dishes.de
Facebook: AfricanDishesOsnabrueck
Instagram: african.dishes/
YouTube: African dishes
Organised by the AFRONEWS, the newspaper for Africans in Germany, the African Community in Germany Awards celebrate and recognise outstanding achievements of Africans in different fields in Germany. They are a way of appreciating and encouraging Africans who have excelled in different fields and are making a positive contribution to the German society.
The Awards recognise the good work done by African organisations/associations and businesses to promote a positive image of Africa and Africans, facilitate integration of Africans in Germany, promote business opportunities and international cooperation between Germany and African countries.
How to vote for your nominee
Public voting online for the official Award nominees is now open. The closing date for voting online is 17:00 on Monday, 12th September 2022.
To vote for your preferred nominee, click here:
Sponsors of African Community in Germany Awards 2022
Ortel Mobile, Germany's leading prepaid sim cards provider for people with a migration background, is the major sponsor of the African Community in Germany Awards 2022.
The Awards are also sponsored by Taptap Send, an easy-to-use smartphone app that lets you send money to family and friends with just a few taps and a debit card, and Ria Money Transfer, a subsidiary of Euronet Worldwide, Inc. (NASDAQ: EEFT), a global leader in the money transfer industry.
How to sponsor African Community in Germany Awards 2022
The African Community in Germany Awards is a high-level event that offers companies a variety of channels to increase their visibility amongst members of the African Community in Germany.
For Sponsorship Opportunities please contact: Stephen Ogongo, Editor of AFRONEWS, Tel/WhatsApp: +393333010654. Email: editor@afronews.de
The African Community in Germany Awards Gala Night 2022
All winners will be announced and recognised at the African Community in Germany Awards Gala Night to be held on 22nd October 2022 from 5:30 PM at Bürgerzentrum Niederhöchstadt, Montgeronplatz 1, 65760 Eschborn.
The event will start at 17:30 and end at 23:45. An after-event party will follow until 05:00. CLICK HERE TO BOOK YOUR PLACE.
Reservations are made on a first-come first-served basis. For further info on Reservations to attend the Awards Gala Night, please contact: Gillian Piroth, Tel: +49 177 7800989. Mail: contact@myethniccooking.com