The story of Ebrima Darboe, the former Gambian child refugee who now plays top-flight football for AS Roma is quite similar to a fairy tale.
The 19-year old brilliant footballer has had a very difficult life in the past. When he was only 14 years old, he was forced to flee his home country to look for refuge and greener pastures elsewhere. He left The Gambia alone, leaving behind his parents and family.
Ebrima Darboe the unaccompanied child refugee
The journey to an unknown destination first took him to Libya where he stayed for a while before embarking on a dangerous boat journey to Italy.
Shortly after arriving in Italy four years ago, Darboe was transferred to Rieti, a small town located about 80 Km from Rome. Upon arrival he was accommodated in a shelter for asylum seekers under a system at the time known as SPRAR, Italian initials for Protection System for Refugees and Asylum Seekers. A social worker was assigned to take care of him, being an unaccompanied minor.
Darboe soon began to play football with local clubs in Rieti. It however didn't take long before he joined the youth team of amateur side Rieti.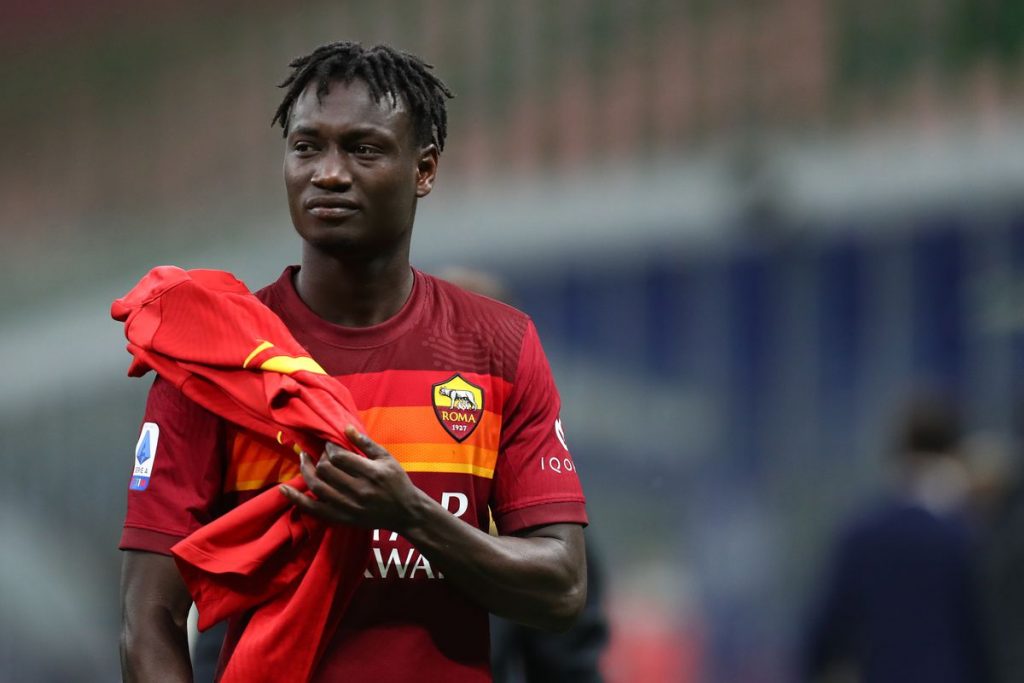 Darboe makes his Primavera debut in 2019
Darboe continued his Italian education before eventually having a trial at AS Roma. After joining the Giallorossi, he made his Primavera debut earlier in 2019.
The young midfielder signed a professional contract with Roma in July 2019, a moment he described as "fulfilling a dream".
Since making his debut for the youth team in 2019, Darboe has become a permanent fixture in their side. He was named in Roma's senior matchday squad to face Milan in October 2019.
Darboe's indisputable talent was noticed by Miriam Peruzzi, a talent scout whose family is set formally adopt the young player. Ms Peruzzi and her family have been very supportive of Darboe.
Playing Europa League semi-final for Roma against Manchester United
The magic moment for Darboe to display his skills to the whole world came on 6th May 2021 when he played a Europa League semi-final for Roma against Manchester United. He helped his team to a 3-2 win on the night.
Speaking after the match, Darboe said he was nervous when entering the field. "Four or five years ago I was in Africa, watching players on the TV – and today I was out there playing against some of them. So, I was very excited about that," he said, adding that he had "a pretty unusual time."
While admitting that he had had a long and tough journey to get to this level, Darboe stressed that since arriving in Italy his life had changed.
He revealed that before entering the filed, Roma coach Paulo Fonseca had told him: "Look, Ebri, stay calm, do what you can, you are a great player so don't try and force things".
The young player is happy to have done what the coach advised him and is grateful to his teammates for helping him during the match.
He thanked coach Fonseca, the youth team boss Alberto De Rossi, and all the people who have helped him since coming to Italy. "I've learned so many things I didn't know before from them, so if I am where I am now it is because of the coach and the staff. I want to thank all of them. … I don't think I've done anything yet, I think I still have a long way to go. I try to train as best as I can and do everything I can to help the team," France24.com quoted him to have said.
READ RELATED ARTICLES: Gambian Footballer Bakary Jatta charged with illegal identity swap, lies about his age

Bologna's Musa Juwara, a former rubber-boat migrant refugee from Gambia making waves in Italy's football scene
Darboe has won praise from several big football stars. Paula Pogba and Bruno Fernandes have described him as a person who doesn't allow anything to threaten him while on the field.
AS Roma Coach Paulo Fonseca has hailed him saying Darboe has "changed the face of the team".
"I get excited when I see him make a debut," said the AS Roma Primavera head coach Alberto De Rossi.
Speaking after playing the Europa League semi-final for Roma against Manchester United on 6th May, Darboe thanked Miriam Peruzzi, the talent scout who discovered and made him part of their family.
Ms Peruzzi, who was initially reluctant to watch Darboe play, was deeply touched by his playing tactics and intelligence. She is convinced that the young player is set to become of the most successful players.